I know what you're thinking. You're thinking: hey, Tim, I don't have to see anything. You can't make me. You're not the king.
And to that, I say: if I'm not the king, how do you explain my sweet crown?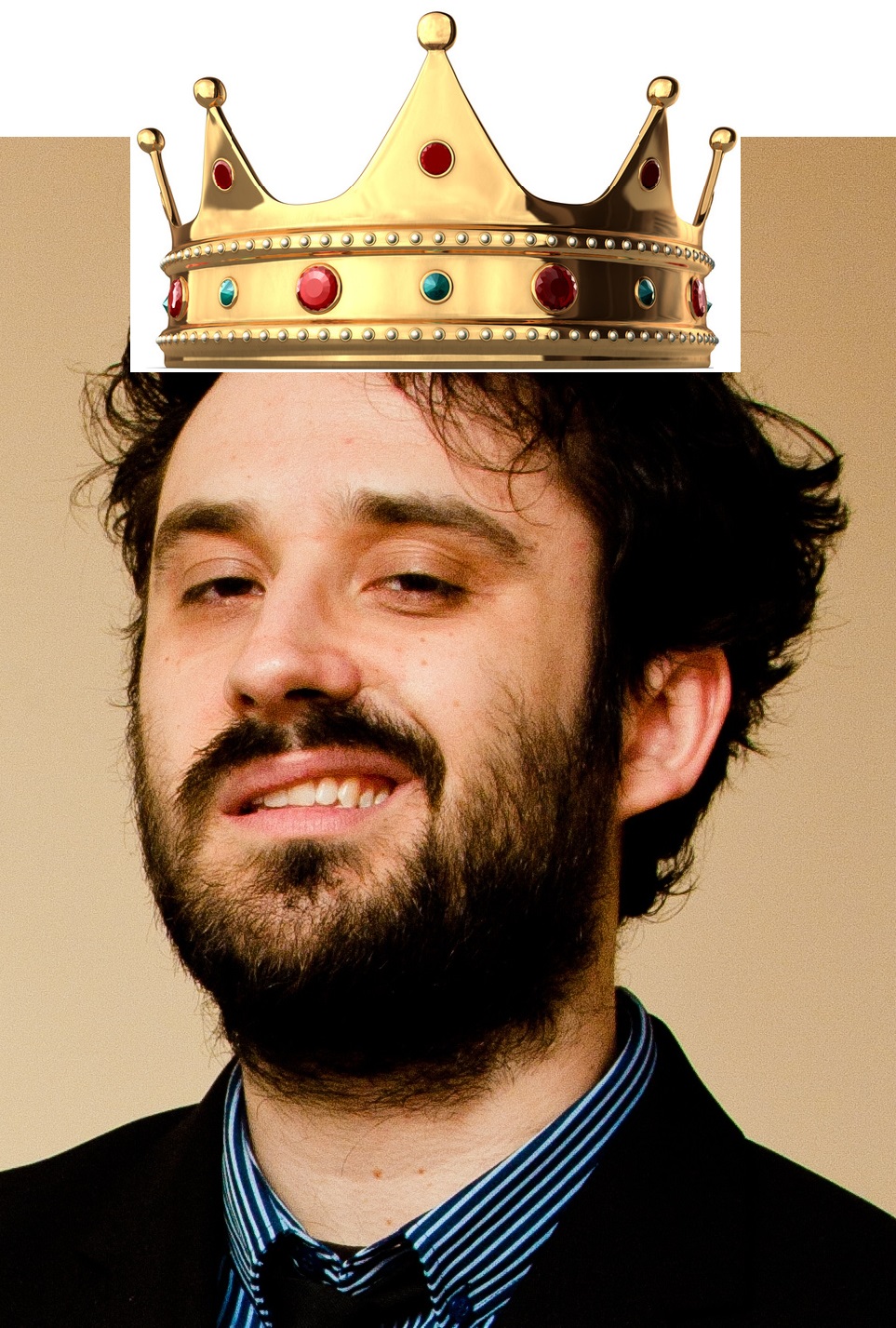 QED, motherfuckers.
Rob Auton is one of the funniest, most original poets on the circuit today. Last year, he did a show about the colour yellow, this year, he's doing a show about the sky. If BANG Said The Gun – the excellent poetry night at which he is a resident – is poetry without ponce, then Rob Auton is whimsy without wank. His show is on at 4pm all festival, and it's free, at the Banshee Labyrinth on Niddry Street. A proper Fringe experience. Hit it up, thank me later.
My radio co-host and fellow Homework resident John Osborne is following up his sell-out smash hit John Peel's Shed with an hour about Britain's seasides. I saw an early scratch of this and it was interesting and funny and charming – all the qualities that John Osborne is rightly renowned for. Expect some beach footage, some storytelling, and some wittily observed vignettes. A nice break from sweaty stand-ups bellowing 'edgy' jokes about their genitals.
My friend and yours (maybe) Luke Wright is bringing another poetry show to Edinburgh, this time based around seeing what you want to see, as embodied by the titular Essex Lion, alias the Beast of Brentwood. Luke did half the show at Homework last month, and it *killed*. It's very funny and very clever. A show about seeing what you want to see, that, ironically, you want to see! So if you want to see about seeing what you want to see, see Essex Lion, see? #sweetslogan
Remember that urban legend where you sync up Pink Floyd's Dark Side Of The Moon with the third roar of the MGM lion on The Wizard Of Oz? And how the two artefacts supposedly synergised in a bizarre, almost mystical way to create a new work, rich with subtext? It doesn't matter if you don't. Ross Sutherland's new hour starts on the 16th of August at the Forest Fringe and is by turns gut-rupturingly hilarious, smart without being oblique, and spectacular. Also there's some Crystal Maze in there. Check it out and experience the opposite of regret.
Also at the Forest Fringe from the 16th is the new show from Chris Thorpe and Hannah Jane Walker, about our addiction to our phones. Surely the only show on the Fringe where the audience are asked to leave their phones on. I haven't seen their previous shows, because I am a dickhead, but they won a Fringe First and they are both talented and charismatic performers, so I will gladly wager you one (but not both) of my cherished testes that this show will be cracking.
6. Why Don't We Kill Ourselves?
Psychiatrist, Holocaust survivor and founder of logotherapy, Viktor E Frankl, famously asked his patients 'why don't you kill yourself?' as an opening gambit. He reasoned that, whatever answer they gave, however small, it pointed towards hope and recovery. Patrick Lappin offers no such redemptive arc, but he is a very good stand-up. Attend his free show about the shitty time he's had and why he hasn't hung himself yet. You might not leave uplifted, but you will probably laugh until a small dose of wee comes out.